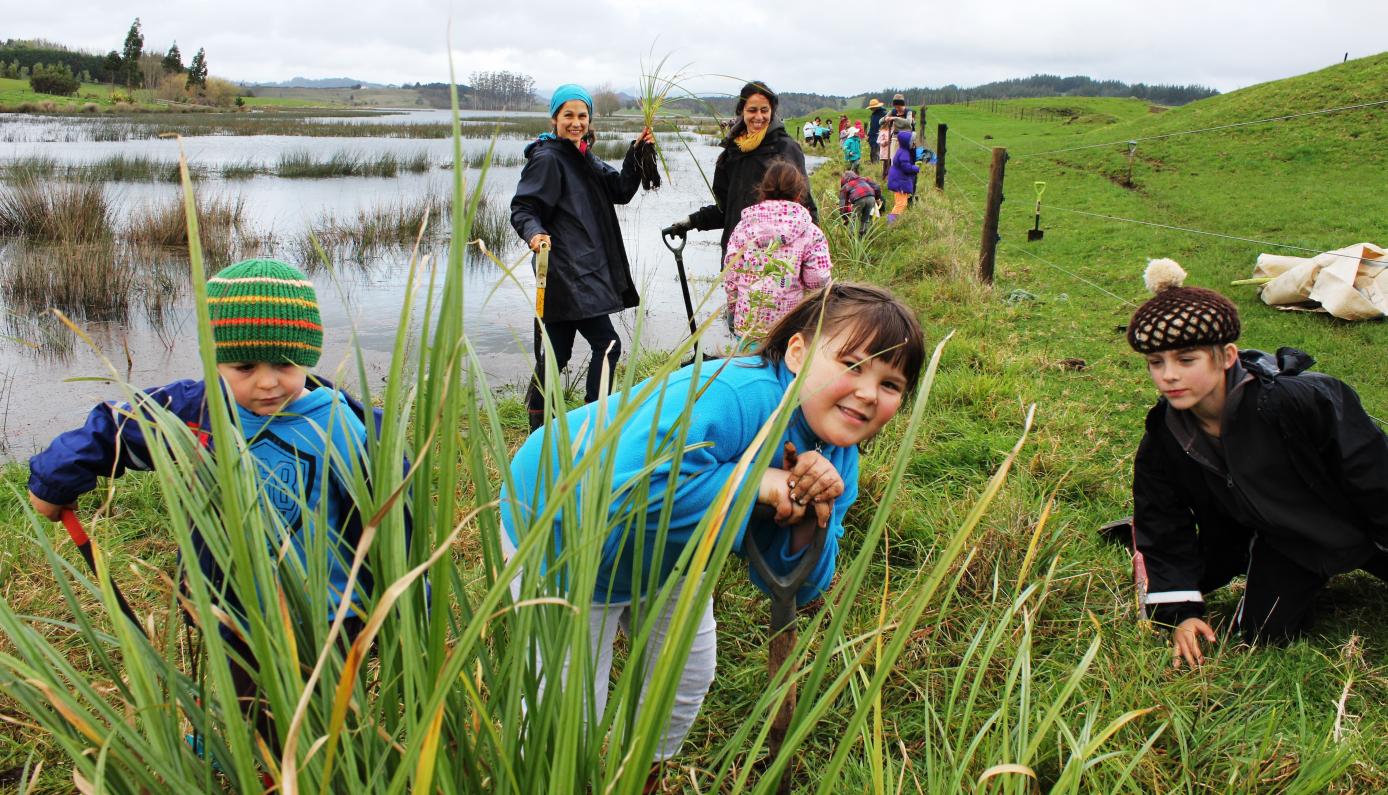 Since 2014, Toimata has supported Enviroschools Northland to harness the power of community cooperation and regional partnerships to bring together WaiRestoration, a cofacilitated, community-led project that focuses on taking action locally to restore waterways and biodiversity.
Water ecosystems are a good environmental indicator and can tell us a lot about our relationships with nature and the health of our communities. Wai will often feature in a pepeha or mihi used by tangata whenua to acknowledge ancestral water bodies such as a moana, roto, and awa. Many people identify strongly with water and want to see the health of our waterways enhanced.
Enviroschools WaiRestoration is a project grounded in locally-based action that results in communities becoming engaged in their own responses to environmental issues, encouraging longevity of solutions.
In 2018 about 50 people from across Aotearoa gathered in Kerikeri for the country's first WaiRestoration national hui. Enviroschools Regional Coordinators and Facilitators, Northland organisations, tangata whenua, students and teachers, farmers and landowners were among those who shared their WaiRestoration experiences with participants who came from as far afield as Otago.
The purpose of the hui was to share ideas and knowledge from the Northland region with the wider Enviroschools network to give them the opportunity to take back and apply these tools in their own regions. There are similar projects happening right across the country, and sharing the story and learnings of WaiRestoration has since contributed to successful ecological restoration projects in other regions.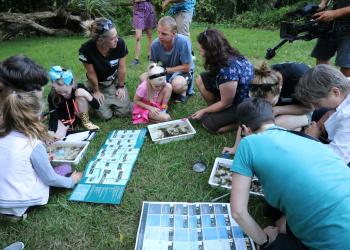 "The WaiRestoration hui inspired me to develop a 'menu' of ways that schools can get involved in helping to improve the water and habitat quality of the Taylor River – a river which flows right through the centre of Blenheim".
— Anna Crowe, Enviroschools Marlborough Facilitator.
"The WaiRestoration hui and PD has made us think more broadly about the things we are doing, and to be looking for opportunities to connect with wider community projects or for schools to be working together on bigger projects".
— Robyn Zink, Enviroschools Otago Regional Coordinator.
The WaiRestoration project:
Motivates learners to be actively involved and builds reliability, resourcefulness and resilience while working in and connecting with local land, waterways and people;
Aspires to restore our waterways and biodiversity by seeking to empower and mobilise students, teachers, schools and their communities to provide practical and skilled support to farmers and landowners;
Moves towards a culture of shared responsibility for the restoration and future of our environment; and
Brings together a series of initiatives for improving freshwater and preserving native species.
There are seven elements at the heart of WaiRestoration: WaiFencing (keeping stock out of waterways); WaiNurseries (growing riparian plants); WaiPlanting (planting beside waterways); WaiMaintenance (keeping out plant and animal pests); WaiMonitoring (testing and tracking water quality); WaiEnterprise (creating sustainable employment); and Save a Species (restoring endangered plants and animals).
The processes embodied by WaiRestoration can provide the fertile ground for community empowerment, action, and ownership. This project is just one example of a wide number of environmental actions being undertaken by the people in our diverse regional network.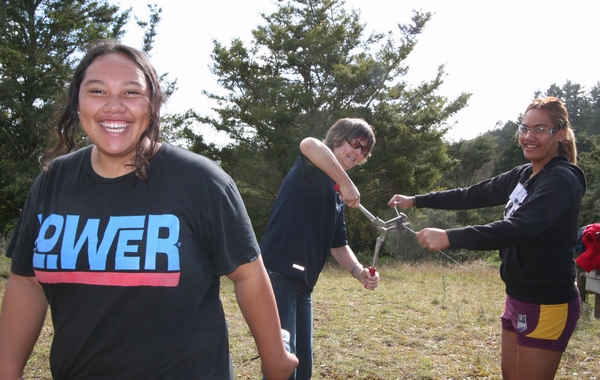 (Above image: Enviroschools Northland Regional Coordinator Susan Karels shows the girls how WaiFencing is done).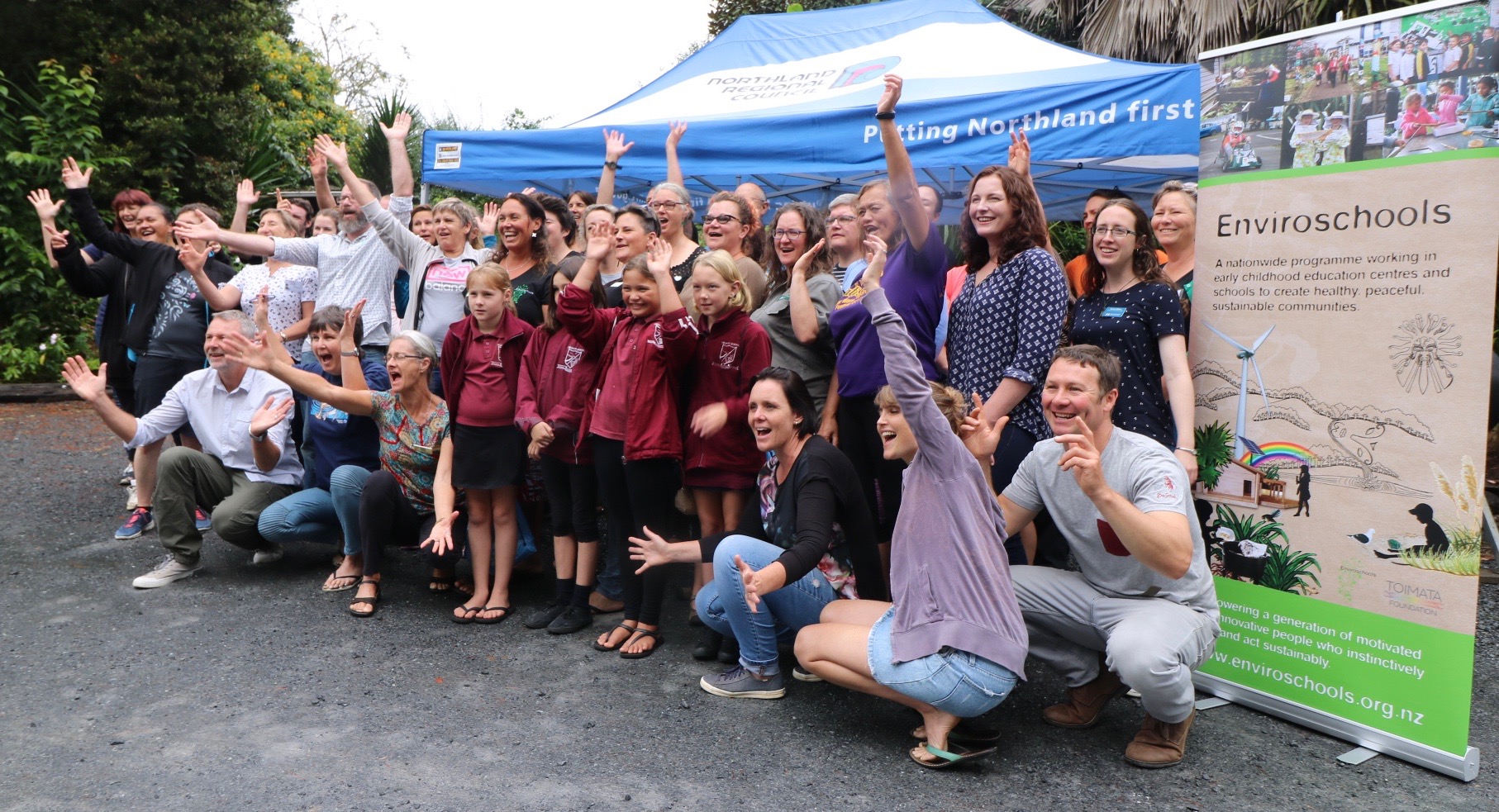 (Above image: Celebrating a successful hui, new knowledge, inspiration, and ideas).