There is an increasing focus on the implementation of the
Local Curriculum
in learning communities. A recent article from the Enviroschools website shares how the Enviroschools kaupapa and approach supports schools and early childhood centres with the development of Local Curriculum – it's all complementary!
Our Enviroschools programme allows young people to connect with their communities and local environment to explore issues, creatively express their ideas and make changes that are relevant for them. Ecosystem restoration, ecological building, traditional navigation, sustainable energy pathways, rongoa Māori, restoring waterways, marine health, zero waste, school travel planning, sustainable kai production are just some of the local learning and action projects taking place in Enviroschools.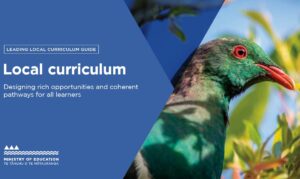 The holistic, long-term Enviroschools journey creates fertile ground for a range of learning and action. There are so many links between the Local Curriculum document and the Enviroschools kaupapa – this is essentially what we have all been working towards and implementing for over 20 years!
The Enviroschools Programme works with the New Zealand Curriculum and Te Whāriki to provide a programme that goes beyond the classroom, to take a whole school/centre and community approach. Curriculum in this sense acknowledges both the formal and the informal curriculum and values all aspects that influence students' learning and their futures. Messages that students receive from their surroundings and through the way in which the school/centre operates and makes decisions, are considered to be a significant influence on student learning.
"Enviroschools is a journey of investigation, experimentation, action and reflection to become part of a sustainable community. At each level knowledge and experience and practice increases in depth and breadth." – p 25 Enviroschools Handbook
Read more about how the Enviroschools kaupapa aligns with the Local Curriculum, and explore case studies and examples by reading the full story here.