Te Aho Tū Roa Kaiwhakapumau Joanne Murray shares the 4 day Tūhura Papatūānuku Geo Noho for kura in Te Taitokerau. A week of learning aims to get the tauira excited about science, Te Reo Māori and Mātauranga Māori.
Tūhura Papatūānuku Geo Noho aims to improve the equity of access to skilled scientists, science resources and mātanga Māori/experts for young taiamariki Māori and help them learn about the taiao through a multi-sensory, culturally rich and embedded marae-based wānanga taiao / putaiao/science… to be inspired to consider it as future profession.
Addressing inequity to access for our rural and small kura to high-quality creative educational experiences with highly skilled and knowledgeable scientists and Mātanga Māori, Te Reo Māori, Ao Māori. Our focus on planting the seed of love for learning by providing these transformational learning experiences to begin to raise the numbers of taitamariki Māori moving into STEM professional career pathways in the future through engagement with our Taiao (environment).
The four-day noho on 22-26th May at Ngāitakoto's Waimanoni Marae in Awanui. A week of learning aims to get the tauira (students) excited about science, Te Reo Māori and Mātauranga Māori (Māori knowledge).
Six kura sent years 7 and 8 and a teacher to take part in the wānanga taiao. Over the noho, the students are engaged with inquiry-based hands-on experiential learning through field trips, which are then followed by lessons back at the marae making these science-based wananga into something more meaningful and conducive for Māori learners.
Our students and kaiako were immersed in learning a range of Western science and traditional Māori science concepts including learning local pūrākau/history to enrich their local curriculum: Pou at Maitai Bay Rāhui, Kahukura's Net at Tokerau, how Otaipango got its name, kaupeka o te tau, tirotiro (careful observations of taiao), waiata Māori, kemu Māori, Ātua Māori connections through whakapapa: Whakapapa o Ngā Kohatu, Whakapapa o Ngā Wai Puna, rising sea levels, contour lines, fossilised kauri forests, Tsunami, cool sandbox activity, core sampling, microscope activities, learning about pollen, Hurihanga wai (water cycle), hurihanga waro (carbon cycle), water quality testing, learning about the extremely endangered and rare 'dinosaur plant' at Lake Ngatu, launching of Hauhake Taiao resource – the new waiata/karakia/Tuhura Papatūānuku GNS resource book with USB recordings that teachers could refer to throughout the wānanga and of course, kemu Māori/ catchy waiata to learn of difficult concepts eg whakapapa, water cycle.
The biggest winner for this wānanga was "whanaungatanga" & connection, so many new friends made through roopū Ātua working together, our key message being "patua te whakamā", getting rid of being shy – so they can grow and blossom with the right support throughout the wananga, lots of new friendships formed … and much more! Confidence as well, many students had never stayed on a marae before – so lots of new cultural learning with bilingual delivery, and all our kaupapa Maori activities.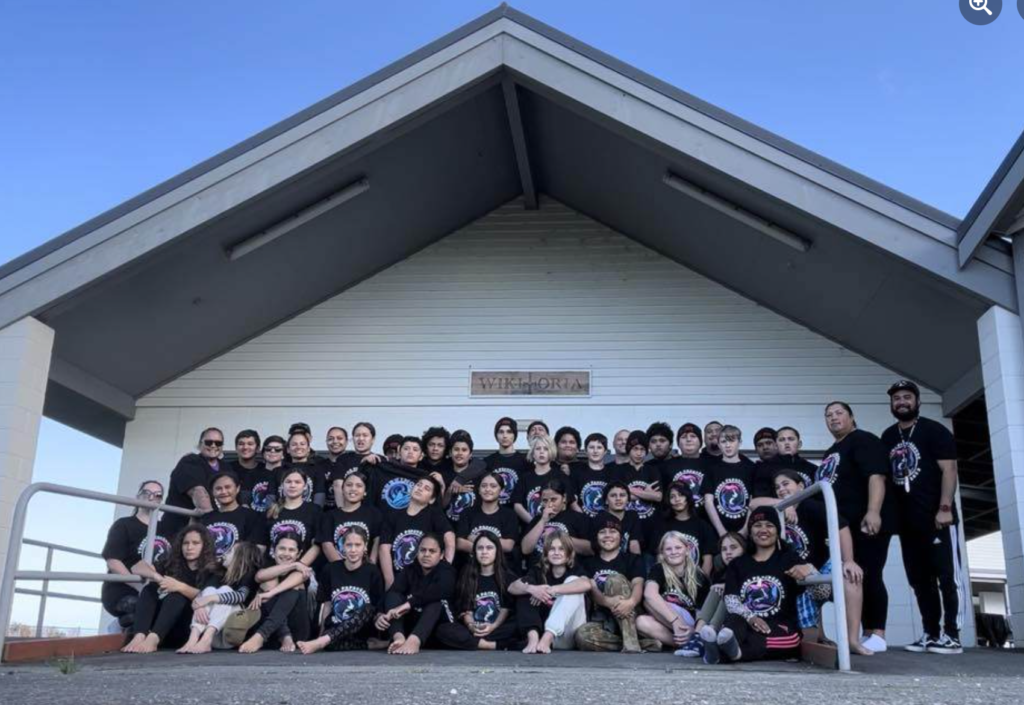 The experience is co-designed and co-delivered with GNS scientists, Te Tira Taiao, which includes Kaiwhakapūmau, Te Aho Tū Roa Tuākana to ensure the saturation of Science content, Māori culture, language and korero tuku iho / Mātauranga Māori are included in the planning, resources and delivery of the programme. Our second wānanga on 22-25th August is targeted for  Māori Immersion Kura.