Huamārama is a reo Māori resource book of everyday things we can do to enact rangatiratanga in our homes in sync with taiao.    Huamārama shares creative, innovative and sustainable practices in the home, and everyday life.
The production and development of Huamārama was supported by Creative NZ, Toimata Foundation, and Earthwise.    Huge thanks to the community whānau of Te Kura Kaupapa Māori o Te Rito, Tainui Marae, the Prime-Winiata whānau who participated in workshops to help shape and share some of the inspiration in Huamārama.
Copies can be ordered online
here.
He kohinga kai, he kohinga kōrero āhuamārama e whakatairanga ana i te rangatiratanga i roto i te kāinga, i roto i te whānau. He rauemi hoki hei whakanui i te pitomata o te whenua, o te tangata kia manaaki i tō tātou ao.
Kua hua te marama. 2020.
He marama.
He pō.
He marama whanake.
He marama roku.
He marama.
He kaupeka.
He tau.
Ngā tau.
Ka mārama.
Kua hua te marama. 2022.
Kua rewa te taonga nei! Kua ea! E hari ana te ngākau ki te kite e tau ana i roto i ngā kāinga puta noa i Aotearoa. Kua tatū mai ngā tono kia hokona ki ngā toa pukapuka, kia hokona atu ki tāwāhi, otirā kia tatū atu ki tēnei hui, ki tēnā hui. Ai auē! E manawarū ana e tutuki ana te kōingo mō Huamārama, kia tūhono ki taiao, kia toitū te reo, kia toiora te tangata!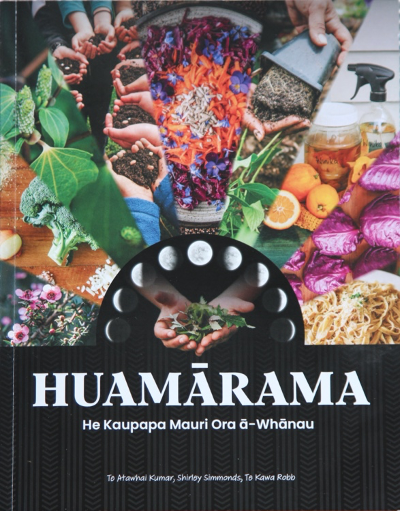 We are going to run a half day reo rūmaki kaupapa with the whānau and our Reo2Go Club using your pukapuka! Perhaps a cooking day or day in the māra…It's such a brilliant book!
– kaiako Te Ataarangi